The way the world works is changing and as it changes organizations need to maintain efficiency and productivity without missing a beat. If there are two things that can guarantee to slow an organization down, it is outdated technology and segregated forms of communication.
Since conception, we have seen technology advance at immense speeds allowing organizations to maintain daily operations, reach overall goals, drive profit, and provide organization longevity. While we have been introduced to many technological marvels, Unified Communications has an incredible influence on an organization's efficiency and revenue by integrating all forms of communication including but not limited to:
Video Chat/Conferencing – speeds up collaboration time by offering high-speed video that can be accessed in any location, eliminating the need to travel to meeting areas. Most video chats also have additional collaboration tools to help employees work on the same project at once allowing for the most accurate flow of information.
Chat/Email – real-time chat conversations that allow open communication within an organization and tailored inboxes allowing individuals to access messages all under one one mailbox that can be personally filtered to show information relevant to their role in the organization.
File Sharing – anyone in the organization can access, edit, and share files in real-time without wasting time searching for, outdated, files and information.
Reporting/Analytics – collect and analyze the latest data without having to spend the time searching for current/updating old data. Be able to quickly identify trends and ways to improve performance.
Task Management – be able to easily manage projects from start to finish by setting deadlines, assigning resources, assigning, and managing tasks per person, stay in communication with the team, generate reminder notifications and more to keep projects on topic and on track to meet deadlines.
Beyond just optimizing communication platforms and integrating them under one power-packed roof, Unified Communications has incredible benefits on an organization, especially in terms of productivity and keeping your organization in line with its goals.
Improvement in Daily Efficiency and Productivity
Most organizations know that every minute counts, so set-backs and distractions are something they want to eliminate. When integrating Unified Communications, organizations improve workflow by removing bottlenecks which in turn improve productivity and efficiency daily. Employees are easily able to communicate, share files, work cohesively, access data remotely and easily chat/video chat when necessary. They can also save time in searching for files, updating outdated information, and verifying new data by being able to access the latest information from virtually anywhere at any time. Unified Communications also alleviates communication challenges and other daily hiccups allowing more work to be done in a day, helping organizations meet goals before deadlines. Other benefits for efficiency include:
Integrating IM chats into web conferences or phone calls
Join chats/video chats with a single click and control side conversations within these chats and meetings by allowing the presenter/host to have full control of the chats
Use an agenda to stay on task and receive reminders about important appointments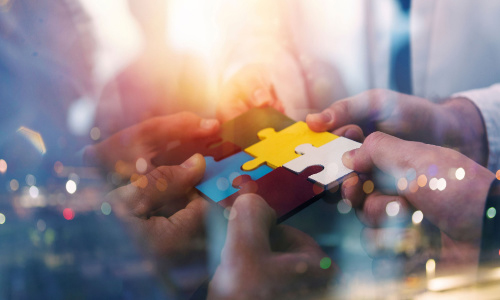 Customer service is the backbone of a lot of organizations and great customer service not only keeps customers coming back but opens the door for new customers simply by word of mouth. Unified Communications gives your organization the upgrades it needs for your call center or customer service centers that result in reduced wait times and increase in first call resolutions. UC also allows employees to answer from virtually anywhere and integrates CRM (customer relations management) software, which gives employees the ability to see all notes and valuable information that is associated with a specific contact.
Better Mobility and Accessibility
Mobility and remote work are becoming a priority among not only workers but for organizations as well. With hybrid work models and with technology advanced enough to allow people to work from virtually anywhere, organizations who jump on this have the chance to improve employee morale, efficiency, and customer satisfaction. Better mobility also widens the pool of candidates that an organization can hire from, allowing people from across the country to be just as involved and in control as people in the office even in varying time zones.
While remote work might seem like it would cost efficiency, millennials and younger generation workers prefer not to waste time. From meetings that are dragged out, emails that offer little communication, pointless office conversation and time taken to access important data are all things that they want to avoid. Unified Communications offers organizations to allow employees to work from anywhere, access data regardless of location and keep communications instant and efficient, giving employees more control of their time and workload.
Without a doubt, Unified Communication is one tool that is needed for any organization who wants to maintain a high standard of efficiency and productivity. Organizations who utilize this technology allows them to stay on top of changing workplace trends such as mobile workforces and globalization and is a key component of enhanced communication, collaboration, IT strategies, digital transformation, user experience and overall business growth.
If your organization is ready to take the next step and integrate Unified Communications into your daily operations, contact us at AIS today!