As we are moving into a "paperless" world, some business owners might not see investing into proper printing equipment as a necessity. While it is true, our world is moving into a more digital playing field with digital ads and other online materials, printing and mailing are still prevalent in everyday business in multiple industries.
While not every business necessarily needs to invest in a wide format printer (WFPs) there are multiple industries who see consistent benefits from them such as:
Construction
Architectural Drawings
Art Studios
Healthcare
Education
Photography Studios
Indoor and Outdoor Signage
Graphics Studios
The Undeniable Benefits of WFPs
The ability to print large scale projects such as images, proposals, and blueprints in-house saves time while offering greater control by cutting out the process of having to outsource to a vendor. Beyond this there are a number of other benefits to investing in a wide format printer as a business.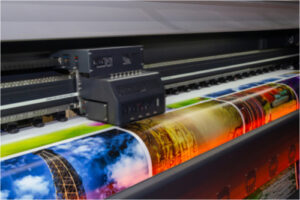 Compared to outsourcing, in-house printing not only saves time and money but gives you guaranteed quality to ensure neither are wasted. Outsourcing printing usually has price markups that pay for that business's printers, parts, maintenance, staff, electricity, product packing and shipping etc. When printing in massive quantities consistently this can prove heavy on your business' pocket.
For example: outsourced wide format printing can cost up to $4.50/page for a 24″ x 36″ (D-sized) document, businesses who frequently outsource can be expected to pay thousands of dollars in printing annually.
Wide format printers are made to last and are built to be used repeatedly during its healthy seven year lifespan. With proper maintenance (cleaning, inspection, replacing parts when necessary) these machines can stay working at top performance for their entire lifespan, ensuring your business never has to sacrifice quality regardless of the machine's age.
High-End Production Capacity
As well as being extremely durable, wide format printers are designed with a high-end production capacity, meaning they produce top quality images with precision detail. These machines can produce incredible black and white or colored images and offer printing papers variations such as film, photo gloss, weather-resistant and peel or stick repositionable adhesive vinyl. Utilizing a WFP can guarantee your business will produce high quality images, signs, or proposals with ease.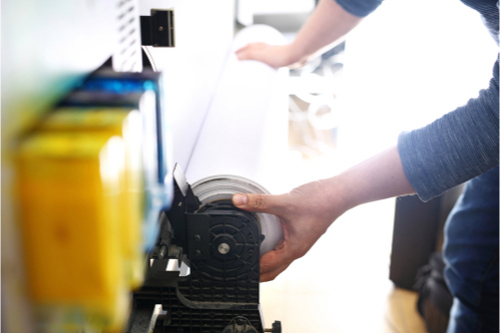 Wide format printers, along with all other technology, grow and improve with time. As workplaces and offices moved remote, printers had to be able to be accessed regardless of the actual printer's locations. The newer version of wide format printers can be accessed from mobile applications and allow sharing, access, and printing via the Cloud.
Track Progress and Reduce Turnaround Times
When outsourcing printing, it is hard to have an eye on projects. By moving in-house, businesses can reduce expensive errors by being able to track the progress of their work and apply any necessary changes when needed. WFPs also help communication between employees and allow efficient collaboration on important projects.
In addition, with in-house printing, you never have to wait for another business to send you the finished product (with the risk of it not being exactly what you need). In-house printing and a team to manage it, can spot any print errors, implement design changes, and deliver the final product all within a timely manner.
Wide format printer tools help not only communication and collaboration, but it ensures documents and projects remain confidential. With in-house printing, only the necessary people can be involved with the process and with better-controlled printer access, businesses have the control on who exactly has access to their data, plans and even file storage.
Making the switch to in-house printing is an easy decision, allowing more control and saving cost is essential for any business especially when creating projects or proposals. If your business is ready to make the switch, but are not sure where to start, head to the Wide Format Printers section of our website to learn what AIS can bring to your business!