A substantial backbone to most organizations is technology, a key component in what helps that organization run smoothly daily. For an organization to keep technology running consistently and efficiently, they must staff a strong IT department to keep business continuity strong. An adaptable, educated IT team can help an organization not only run daily operations but keep up with demand of ever-changing technology to maintain a competitive edge.
Now every IT department is different, based on the needs of the organization, the type of systems they work on and the skills of the team members themselves. When building an IT department that is tailored to your organization there are some things to keep in mind.
First, it is important to identify what you need out of your IT team. Identify issues that your organization faces with technology and identify how you want your organization to grow with technology. This is also a time to consider how much you want to invest in hardware, training and staff but remember, cutting corners in any of these departments can be detrimental to an organization's daily operations.
Secondly, it is important to hire and assign tasks to experienced, proactive IT members. Once you've identified issues you want to address and roles you want to fill such as Systems Engineer, Project Manager or Desktop Support – it is crucial to fill these roles with employees who have the experience and skills to match them to help meet overall organizational goals.
There are four common IT teams that we see across organizations though that include but are NOT limited to:
Operations Teams
Typically, operation teams focus on operating technology infrastructure including monitoring them, ensuring services and systems are readily available and that everything is performing at peak efficiency. Other responsibilities that the operations team typically handle are:
Firewall management
Hardware deployment, upgrades, and support
Managing and provisioning infrastructure resources for internal users
Managing configuration changes and IT workloads
Setting up and authorizing software, hardware, and server resources for new users
Troubleshooting issues
Managing the help desk
Developing a disaster recovery and risk mitigation plan
Implementing preventive, and reactive maintenance and security measures
Project Teams
As the name suggests, these teams are commonly assembled to solve specific problems or implement new systems. These teams are not permanent and typically dissolve after the problem is resolved. Roles in this team can be a Project Manager, Project Sponsor, or Business Analyst. Some different responsibilities for this team include:
Developing a project plan
Determining the methodology used on the project
Establishing a project schedule
Working with users to establish and meet business needs
Documenting the process
Documenting technical requirements
Verifying that project deliverables meet the requirements
Testing solutions to validate objectives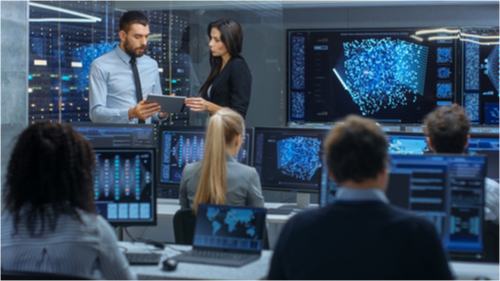 Improvement in Daily Efficiency and Productivity
Support Teams
This IT team is a team that executes IT service management functions to ensure they are running and operating normally. Support teams can be related back to both operations and project teams. They relate to operations because they are a permanent team, and they relate to project teams because they address specific problems and are often assigned mini-projects daily. Other responsibilities include:
Provide overall technical support
Monitor and maintain computer systems and services
Install and configure both hardware and software
Solve technical problems
Training new staff
Process Teams
These teams, who are also referred to as IT business-support teams, are tasked with owning, managing, and improving the IT systems of a specific process and are typically staffed with project managers, data experts, and analysts. Other responsibilities included for this team are:
Work to reduce waste processes
Streamline service management
Collaborate with external service providers
Defining process improvement while managing implementation and monitoring the change process
Once your organization has identified your business needs and established a capable IT department, there are plenty of other responsibilities that the IT department will take the reins on. While many people associate IT departments with a bunch of people who take care of typical support around the organization, as technology grows – the roles of IT teams, whose focus is technology centric, grow along with it, allowing them to take on more roles and responsibilities as needed within a fast-growing organization. These roles and responsibilities include a variety of tasks such as:
Oversees the three main major IT Functions: Governance, Infrastructure,  Functionality
Protecting digital assets
Managing cyber security processes and protocols
Daily maintenance and storage
Technical support
Technology methods for customer relationship management
Spot migration
Maintain communication between employees, suppliers, and customers
Inventory Management Systems
Data Management Systems
Keeping your operating systems up to date
Installing programs and equipment
Maximizing company time
Automating processes
System Integration
Portfolio Management
Vendor and Supplier Management
Engineering and quality assurance (QA)
Network Contingencies
Application Development
Management Information Systems
In charge of managing and maintaining company website
Undoubtedly, the IT department's role in an organization has always been crucial but in such technology focused times the staff in these departments are almost deemed irreplaceable. As their roles and responsibilities increase with the reliance on technology, a business can face a massive amount of technological, security and other daily issues when not properly investing, staffing, or supplying resources to their IT team, proving that properly funding in their IT department can only help with overall organizational growth and meeting all organizational needs and goals.