The transition to working from home has changed the way businesses and employees collaborate and complete work daily. While certain stresses such as commuting and fast-paced work environments are eliminated during the transition, your home is suddenly an extension of your workplace which comes with its own set of distractions, limitations, and stresses. Without proper collaboration and communication tools that can help in daily remote work, working from home can prove to be just as stressful as working in the office.
Luckily, Google Chrome offers a variety of extensions that help smooth the transition, aid in productivity, and help keep organizations in contact regardless of location. In this blog post, we have highlighted five powerhouse Chrome extensions that help in all aspects of daily work which aids in creating a thriving remote work environment for all organizations and their employees.
Primary Benefit: Effective Communication
Grammarly is a free, clouded-based, AI-powered writing assistant. This Chrome extension works across multiple platforms from email to social media and reviews spelling, sentence structure, grammar, and punctuation. Grammarly is essential for allowing users to effectively communicate and has the benefits of a constant writing assistant that can help in catching spelling and grammar errors that can be easily missed.
Grammarly Premium
The premium version of Grammarly goes beyond basic spelling, structure, grammar, and punctuation help. This version will also help the writer maintain clarity, engagement, formality level, and fluency. Users can customize the settings to reflect their style, tone, and context specific words. This version also provides plagiarism detection.
Grammarly Business
This version of Grammarly pulls from both the free and premium version but allows organizations to effectively reflect their brand and its tone while communicating in the office and with customers. Offer support by responding with clearly communicated emails, improve sales with captivating sales plans, and hone in on marketing with powerful and appealing messages.
Primary Benefit: Powerful Communication and Collaboration
When the transition to remote work first happened, Zoom became one of the most used applications for video conferencing and team collaboration. This remote conferencing service allows organization members to instant message, have online meetings, coordinate online conferencing, and help promote a more mobile collaboration effort. This free Chrome extension also offers high-quality screen sharing, easy to use features, a reliable interface and has the capacity to have 100 participants in a single meeting.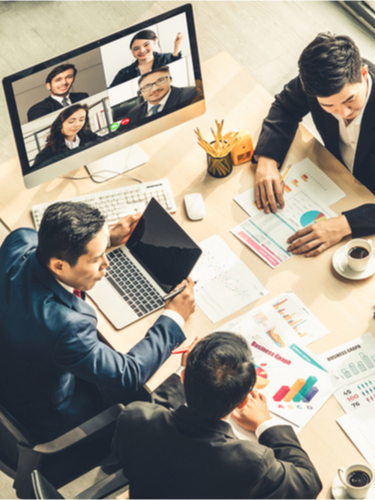 Zoom Scheduler
This extension of Zoom allows organizations to participate in Zoom scheduled events directly from their Google Calendar where also the link and details are listed. Zoom Scheduler gives you the options of who to invite, the type of meeting ID, different security options, encryption options, video/audio options, alternative host options and other additional meeting features.
Primary Benefit: Increased Productivity and Focus
Adapting to and staying motivated to work from a computer every day for long hours is not exactly an easy task for everyone. The internet invites an abundance of distractions the second you open your browser. Momentum offers a way to remove distractions, increase productivity, set focus, and manage daily tasks. Instead of your usual new tab page, the free version of this Chrome extension replaces it with images, daily inspirational quotes, daily focus, to-do lists, weather forecasts, personal links, and favorite bookmarks.
Momentum Plus
Momentum Plus is an optional paid membership that includes all the zen of the free version plus some other incredible features such as the Pomodoro Timer that shifts time between focus and rest. Other features include soundscapes, which adds calming background noise, world clocks, multiple to-do lists, tab groups, fonts, themes, and metrics.
Momentum Team
The latest addition of the Momentum extension is Momentum Team. This brings your team all to one zen, focus oriented tab that brings together your most used apps and communication tools, secure connection, and priority support. It also offers displayed key metrics, event countdowns, all time-zones of workers and self-serve access.
Primary Benefit: Efficient Time Management, Focus and Productivity
With over 2 million users and 3 billion hours logged, RescueTime is used from large corporations to small businesses to help meet work goals and stay productive. This app helps you get a full picture of your digital workday by running in the background of your computer automatically logging your time when you work, when you're distracted by browsing other websites and even can figure out when you walked away from your computer.
RescueTime Premium
This premium version allows all the time management and focus of the original but with other features including auto-categorizing and scaling sites you visit, detailed reports and trends, one-click offline tracking, and the ability to block distracting websites. RescueTime Premium also can be integrated with other apps such as your calendar to help effective planning on all ends.
Primary Benefit: Decrease of Distractions
The most basic of Chrome extensions that anyone needs for a productive day is an adblocker. When you are on the internet, you are going to get ads.
Adblock not only stops unwanted ads but increases your browser speeds and protects you when online. This Chrome extension works in the background of your computer providing a worry-free and distraction-free experience. With over 226,173 reviews averaging a 5-star rating Adblock is one of the best options for blocking ads from professional to personal sites.
Adblock Plus
This configurable version of Adblock is still free but takes the protection a step further and blocks all pop-ups, pre-roll video ads, mid-roll video ads, tracking and malware. This version also adds the default option of "Acceptable Ads Enabled" which filters out intrusive ads but still allows some non-intrusive advertising mainly aimed for supporting websites and their content producers.
Download the free version of Adblock and Adblock Plus here!
While there are hundreds of Chrome extensions out there that can aid in providing a distraction-free, productive workday – these five cover all the basics for a great start in a new work environment. Whether your organization has made remote work permanent, or this is a temporary situation – maintaining efficiency, collaborating effectively, increasing productivity and meeting work goals are the utmost important during trying times for all businesses.