Cloud Computing is taking over the business world by storm by changing how businesses can store and access data. The incredible benefits cloud computing brings are factors such as less need for high power computing, less physical hard drives, unlimited storage, and the ability to access documents anywhere.
Cloud infrastructures is a term that is used to describe the components that go into cloud computing. These infrastructures include hardware, resources, storage network resources and are the building blocks to the cloud. A business cannot access the cloud without a proper cloud infrastructure.
Staff Requirements and Necessary Components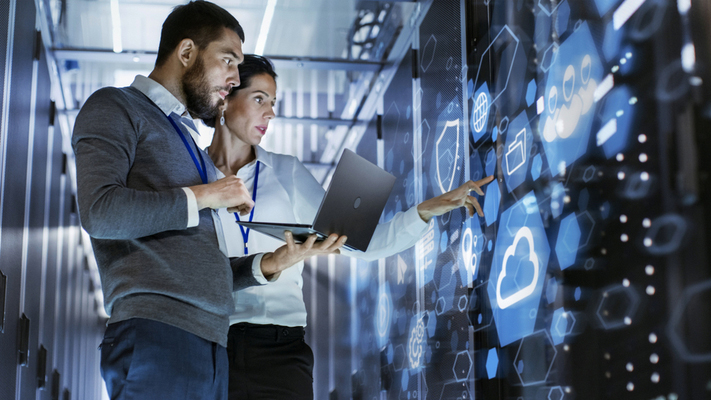 There are several requirements to have an efficient cloud infrastructure. IT Teams should have the prerequisites that will help meet the demand of cloud-based service offerings and execute it effectively. Prerequisites should include knowledge of programming, databases, basics of security, privacy, agile development, operating systems, virtualization, and networking.
Beyond what the IT Team can bring the cloud infrastructure there are four components needed to aid in creating your organization's cloud infrastructure. These components include Hardware which is the physical hardware that make up the cloud network that includes routers, firewalls, backup devices and services. Second is Virtualization which is the process that separates IT services and functions from the hardware. Typically, the hypervisor or virtual machine monitor sits on top of the physical hardware and pulls resources such as memory and computing power. Third is Storage, cloud storage takes place in a massive storage center and choosing the right storage size is based on your organization's size and data use. Fourth is the Network which is composed of physical wires, switches, routers, and servers. Usually cloud networks are made up of multiple subnetworks and allow the creation of VLANS (local area networks).
Choosing The Best Fit For Your Organization
Though the cloud seems easy enough to understand, there are different methods and models that are meant to fit different types and sizes of businesses. Choosing an infrastructure that fits your organization's needs will only enhance the benefits that the cloud offers such as flexibility, data recovery, little to no maintenance, easy access, and high level of security for any sized business.
To start finding the best cloud infrastructure for your business, let's start with the four basic infrastructure types, what they do and what industries can benefit from a specific type of environment.
Cloud Infrastructure Type
Public Cloud Infrastructures are maintained off-site. They are available to the public while data is created off-premises. This cloud infrastructure has less security but requires no need to buy or manage software and maintain efficiency.
Industries/Business Sizes Best Suited For
Automotive
Financial
Education
Healthcare
Insurance
Hospitality
Production
Real Estate
Non-Profit
Any Sized Business
Private Cloud Infrastructures are managed in-house and can only be accessed by a single organization. This method can address and handle security and privacy concerns more effectively.
Agriculture
Air Transport
Automotive
Education
Finance
Education
Gaming
Healthcare
Hospitality
Manufacturing
Streaming
Large Sized Businesses
Community Cloud Infrastructures can support multiple businesses by sharing resources as a part of a community. This method closely resembles the private model and can support an abundant number of users who share in the costs.
Financial
Public Sectors
Healthcare
Research
Education
Medium or Large Sized Business
Hybrid Cloud Infrastructures are a mix of the three previously stated cloud methods. Combining the efficiency of public, the support of community and the security of private, hybrids offer the best of all three methods.
Any type of industry
Small or Medium Sized Business
With these different cloud types in mind, there are three delivery methods of cloud infrastructures. These as-a-service options are crucial in effectively delivering and taking advantage of cloud services.
Software-as-a-Service (SaaS) is a software distribution model where the provider delivers applications through a web-based portal. If you've used applications such as Yahoo! or Outlook, you have used a basic SaaS model before. Advantages of this model are that it eliminates the need to buy hardware and software licenses while having your provider manage and store data. Other advantages are vendor responsibility and a pay as you go model.
With SaaS, you do not need to install or update any software and it has numerous applications such as email services, auditing functions, managing documents, shared calendars, and customer relationship management.
Platform-as-a-Service (PaaS) delivers the full cloud infrastructure along with a software platform that allows clients to develop and manage business applications without the frustrations of building and maintaining the infrastructure. Advantages include increased application testing/deployment, decreasing coding time, supporting geographical distribution, ease of developing for multiple platforms, managing application lifecycles, and reduced internal infrastructure requirements.
PaaS is used for tasks such as developmental framework, analytics such as finding patterns, predicting outcomes, improving forecasting, and investment returns. PaaS providers also can enhance applications that include workflow, directory, and security.
Infrastructure-as-a-Service (IaaS) has the capability to deliver networking, data storage, servers, and virtualization capabilities while allowing the client to access more data storage and computing power. This service has several advantages for organizations such as self-service capabilities, is always available, extending your data storage capabilities and offers disaster recovery.
IaaS has a wide variety of purposes such as testing and developing environments, hosting customer-facing websites, data storage, data backup, data recovery, web applications, HPC, and data warehousing.
Implementing A Successful Cloud Infrastructure
At AIS, we have the tools and resources to help bring your organization the right cloud infrastructure. Bringing together the right components, infrastructure type and delivery method to help cut organizational costs, increase security, offer flexibility and disaster recovery. Cloud infrastructures are evolving and improving constantly, and more businesses than ever are switching to cloud computing. If you are ready to implement a new cloud infrastructure or improve your current infrastructure, Contact Us today.